Solutions to accelerate your CSR commitment
LUCIE offers 4 different levels of commitment to help you implement a credible and rigorous corporate CSR strategy at your own pace!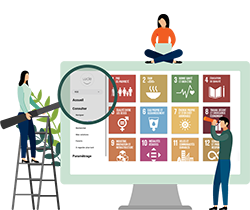 Find information,
connect, get tools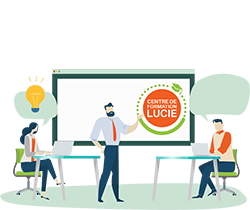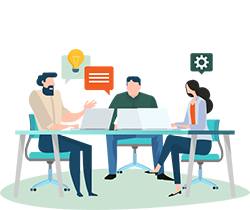 Make step-by-step progress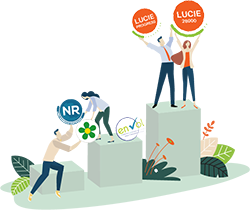 Make a total commitment to CSR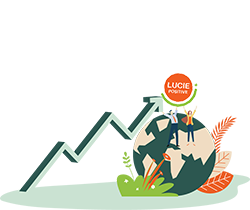 Become a positive-impact company 
Find information, connect, get tools
Join the LUCIE Community to access resources, share your experience with other companies, or connect with a CSR monitoring partner.
In 2019, LUCIE created France's first training center entirely dedicated to CSR. In 2022, the center trained close to 800 people and offered more than 50 courses on CSR, the environment, communications, and sustainable IT.
Make progress step-by-step
Agence LUCIE offers several options to help you make progress at your own pace. You can choose to focus on a single area that is a priority for your organization or evaluate your CSR or sustainable IT strategy with the help of our experts
Make a total commitment to CSR 
With LUCIE Progress and LUCIE 26000, your company, non-profit, or local government will make a serious, tangible commitment to CSR. Both labels are aligned with the ISO 26000 standard.  
LUCIE 26000 is the gold standard CSR label in France. It offers your stakeholders the guarantee that you are implementing a 4-year action plan to develop your organization's commitment to CSR, with an external on-site audit, a label awarded by an independent labeling committee, and follow-up on implementation of the action plan after two years. Your company will receive the label if it scores more than 500/1000.
LUCIE Progress offers your organization a way to get started in CSR with an audit of its CSR strategy by LUCIE auditors. Your organization will receive the LUCIE Progress label for a 2-year period if it scores over 300/1000 and defines an action plan to advance its commitment to CSR.
Become a positive-impact company 
The final step for organizations with mature CSR policies that have already earned the LUCIE 26000 label. 
With the LUCIE Positive label, organizations define their trajectory to create value for society while respecting the planetary boundaries.